So you're looking for a new electric golf trolley?
In this review Cheapest Electric golf trolley UK , we have used our latest search engine software to find you the cheapest and Best electric golf trolley available in the UK online.
We have searched all the major online retailers and compared their prices and narrowed it down to The Cheapest Electric golf trolley UK.
Is this one of the cheapest Electric Trollies in the UK?
We will be honest, we did find one or two cheaper brand new electric golf trolley but they were rubbish!
The one we found is amazing quality for the money and it's under £200 Ebay and under £220 from Amazon. Can you believe it? Under £200 for a brand new electric golf trolley that is capable of completing 36 holes with one charge. Now that is amazing.
We have listed both options as we know some people don't like shopping on eBay but they are the cheapest for this model.
We'll go into all the details and specs further in this review but just in case you're busy and just want to cut to the chase the Cheapest electric golf trolley UK is Rider Electric golf trolley.
What do you get with this trolley
With a powerful 200W electric motor, this Rider Electric Golf Trolley will tackle even the steepest fairways and hills. You have a number of speeds to choose from to give you the perfect range and power for all different courses from short 9 holes to a massive 36 holes. A 36ah Sealed battery will allow you to play 36 holes on one full charge. You'll never again run the risk of running out of power whilst on the golf course. The dual handle control caters for left and right handed golfers and the unique memory function allows you to preset your required speed.
Without the battery, the trolley is only 9.5kg making it one of the lightest on the market. Great value for money, this golf trolley can be assembled in just seconds and it includes quick release puncture proof wheels for your convenience.
Key Features
Ambidextrous controller
Super Lightweight aluminum frame
Aerodynamic battery base tray
Larger 262mm streamlined extra grip wheels
Freewheel mode
Modern Wheel Design
Auto cut off charger to prevent overcharging
Adjustable gears (with a simple turn of the power knob)
Free golf bag rain cover, trolley carry bag, charger, battery bag, cup holder, umbrella holder, scorecard holder and free ball and tee holder.
1 year warranty.Specifications
200W Motor
Total weight including the battery is only 19kg
432W rating 36ah 36 hole battery
35 degree gradient climb
Folded dimensions: 820x530x320mm
What free accessories do you get?
I would be happy with the basic golf trolley for under £200 but this one even comes with £150 worth of accessories. It's simply amazing.
You get, Free golf bag rain cover, trolley carry bag, charger, battery bag, cup holder, umbrella holder, scorecard holder, and free ball and tee holder.
All this and a fantastic golf trolley that is capable of doing 36 holes on one charge, very impressive.
What's the quality like?
One of our team purchased this electric golf trolley and we have all had a go on the course with it and we love it. The style is very similar to the Motocaddy S5 which cost £800. Have a look and see if you can see much difference CLICK HERE.
The only thing you may need is winter spikey wheels when the weather is bad. In the UK that's most of the time. These are available from Amazon. They fit easily and can be taken off in summer.
The quality is really good, it's very easy to fold away and set up and we found it just as easy as my Motocaddy.
Would we buy one?
It's not often you will find a deal like this on an electric golf trolley with all the FREE accessories and one that can do 36 holes on one charge. Yes, it's not a PowerCaddy or one of the other brands that cost £700+ But do you really care?
I know we don't, we just want a golf trolley that will not fall apart after a couple of years and one that will get us round the course in one full charge.
Cheapest electric golf trolley in the UK
Ebay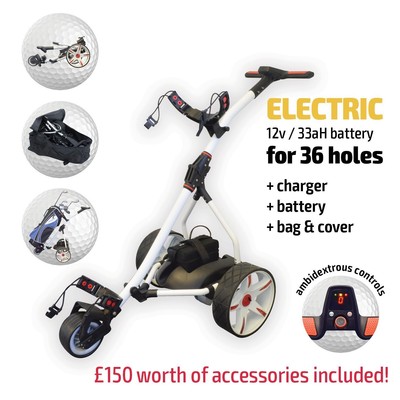 Ebay.co.uk
More expensive electric golf trolleys available
Amazon
If you just want a push along golf trolley here are some of the best we reviewed. CLICK HERE